Gary Flynn

( KE8FD )

GPS Mapping

ALLENDALE COUNTY SC

Cemetery GPS Mapping Project

Paul Kankula

( NN8NN )

Webmaster
Effective: 02/04/21 08:16
by: PMK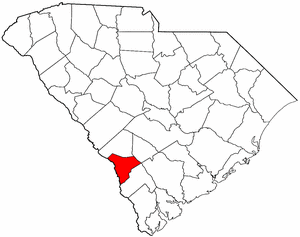 It's very common for a cemetery to be known by several different names..!
If known, alternate names will be noted somewhere on the county's webpage listing.
Contact Gary Flynn at garyflynn44@yahoo.com, if all you know, is your cemetery's general area.
Cemetery names will normally be listed in alphabetical order. Ex: Brown-Jones-Wilson Families
Surnames will normally come before given names. Ex: Brown Family, John
Plantation names were not ordinarily shown on the Census. Using plantation names to locate ancestors can be difficult because the name of a plantation may have been changed through the years and because the sizeable number of large farms must have resulted in lots of duplication of plantation names.
Plantation nicknames names, if known, will normally be listed as aka (also known as).
It's assumed that if a plantation had over 100 enslaved workers, that there would have normally been a separate cemetery for them. Often landowner's family graves might be located nearby, but always kept separate.
Plantation homes were often burned after slave emancipation, because the landowner could no longer afford to pay their land taxes.
Historical home locations can normally be determined by locating their existing foundations.
Aiken-Barnwell Genealogical Society
Cemetery Survey Book Surname Indexes
Submitted by: Cynthia Hardy
The following Surname Indexes WILL NOT provide you with an Individual's Date-of-Birth/Death. It will only tell you in what Cemetery Survey Book, your Surname can be found in and on what page number.
Book 1 = Allendale (3), Bamberg (2) & Barnwell (18) County Cemeteries, Vol. 1, 1999
Book 2 = Allendale (11), Bamberg (9) & Barnwell (42) County Cemeteries, Vol. 2, 1999
Book 3 = Allendale (16 ), Bamberg (25) & Barnwell (93) County Cemeteries, Vol. 3, 2007
Family History Library - Books
The Church of Jesus Christ of Latter-Day Saints
Johnson, Cyril. Barnwell County Cemeteries: Including Allendale and Bamberg. 3 vols. Aiken, S.C.: Aiken-Barnwell Genealogical Society, 1999-2007. FHL Books 975.77 V3b v. 1-3

Private Burying Grounds of Boyles Family, Allendale County, South Carolina. Typescript, South Caroliniana Library. Microfilmed 1951: FHL Film 22720 Item 3.
Research Notes:
Allendale County and its county seat of Allendale were named for the Allen family, one of whose members, Paul Allen, was the town's first postmaster. The county is South Carolina's youngest; it was formed in 1919 from parts of Barnwell and Hampton counties. The area was settled in the mid-eighteenth century by English, German, and Scotch-Irish farmers, and it remains primarily agricultural. The plantation of Confederate general Johnson Hagood (1829-1898) was in what is now Allendale County, and the artist Jasper Johns spent his childhood years in Allendale. (Submitted by: SC State Library / Mary Morgan, 31-Mar-2008)
(1) = Allendale County Find-a-Grave Project
(2) = Survey Book Code # = County # - Survey Book # - Page #
AME = African Methodist Episcopal (N) SMC = Southern Methodist Church UMC = United Methodist Church ME = Methodist Episcopal
Zion AME = Zion African Methodist Episcopal (N) CME = Christian Methodist Episcopal (N) = Negro (S) = Slave (C) = Caucasian (I) = Indian (A) = Asian
E-Mail: kankula@bellsouth.net TO REPORT BROKEN LINKS
Ref #

Cemetery Name

GPS Mapping

Aerial View

Road Map

Photos

Text

Find a Grave

(1)

Survey Book #

(2)

Location

03-001

Allen Chapel

n33 00.633 , w81 15.650

03-002

Allen Family

can't locate cemetery

03-003

Antioch Church

n32 56.867 , w81 24.867

03-004

Beautiful Gate Church

n33 00.267 , w81 23.200

03-005

Beech Branch

n32 51.450 , w81 16.617

03-006

Bentley Branch Church

n33 06.550 , w81 24.100

03-007

Bethel

can't locate cemetery

could be Unknown #16

03-008

Beulah Church

n33 04.467 , w81 25.517

03-009

Boyles-Brown

can't locate cemetery

03-010

Brown Family #1

N32 54.300 , W81 24.533

03-011

Brown Family #2

n32 56.417 , w81 24.050

03-012

Brunson Family

n32 59.480 , w81 15.845

Brunson-Morris Family

n33 03.463 , w81 16.700

03-013

Bryan-Forrester Family

can't locate cemetery

03-014

Cave Church

n33 05.583 , w81 20.067

03-015

Cohen Family

n32 54.083 , w81 23.700

03-016

Concord Church

n32 59.467 , w81 25.267

Historical

03-017

Cone-Mixon Family

can't locate cemetery

03-018

Cypress Chapel

can't locate cemetery

Relocated

03-019

Doe Pond Church

n33 02.417 , w81 26.083

03-020

Ebenezer Church

can't locate cemetery

Relocated

03-021

Erwinton Church

n32 58.467 , w81 25.083

03-022

Fairfax

can't locate cemetery

03-023

Flowers Family

n32 55.017 , w81 23.617

03-024

Folger Family

n32 54.633 , w81 23.550

03-074

Fowke Memorial

n33 07.330 , w81 25.240

100' E of River Rd, S of Cedar Hall Rd, Martin

03-025

Furse Family

n33 05.917 , w81 31.300

Lower 3 runs

03-026

Garvin Family #1

n32 53.350 , w81 25.567

aka Garbin

03-027

Garvin Family #2

n32 54.100 , w81 24.167

aka Garbin

03-028

Gifford-Wooten Family

Between Fairfax and Estill, on private land

03-029

Gillette Church

n32 51.000 , w81 23.250

03-030

Gillette Church

n33 01.700 , w81 25.467

03-031

Googe Family

n32 57.682 , w81 12.472

could be Unknown #9

03-032

Great Salkehatchie Church

can't locate cemetery

03-033

Harmony

can't locate cemetery

aka Mixon-Cone

could be Unknown #11

03-034

Harter Family

n33 03.133 , w81 08.100

03-035

Hayes Family

n32 59.640 , w81 16.740

03-036

Jackson Family, Hugh

can't locate cemetery

could be Unknown #10

03-037

Kinard Family

can't locate cemetery

could be Unknown #18

03-038

Lower Three Runs Baptist

can't locate cemetery

03-039

Magdalene Church

n32 55.500 , w81 25.517

03-040

Middleton

can't locate cemetery

could be Unknown #15

03-041

Miller Creek Church

n33 01.733 , w81 12.067

03-042

Mount Arnon Baptist

n33 03.800 , w81 19.217

03-043

Mount Calvary Church

n33 05.383 , w81 14.300

03-044

Mount Hope Church

n33 04.667 , w81 28.767

03-045

Mount Pleasant Church

n33 00.483 , w81 12.717

03-046

Mount Saini Church

n33 07.450 , w81 27.817

03-047

New Home

n32 58.400 , w81 18.217

Historical

03-048

New Hope Church

n33 04.033 , w81 16.933

03-049

New Zion Church

n33 02.017 , w81 18.867

03-050

Pleasant Mountain Church

n33 08.550 , w81 29.600

03-051

Robison-Black

can't locate cemetery

03-052

Runs Baptist

can't locate cemetery

03-053

Saint James Church

n32 51.133 , w81 21.067

03-054

Saint James Church

n32 57.050 , w81 17.483

03-055

Saint Marks Church

n32 57.517 , w81 21.233

03-056

Saint Nicholas Lutheran

n33 01.267 , w81 07.733

03-057

Saint Nicholas Lutheran (Old)

can't locate cemetery

03-058

Saint Paul's

n32 53.367 , w81 25.750

03-059

Salkehatchie Family

n33 06.083 , w81 11.650

03-060

Second Calvary

n33 02.317 , w81 16.633

03-061

Smart Family

n32 55.633 , w81 22.117

aka Humphreys

Smithfield

n32 54.940 , w81 18.810

03-062

Smyrna Church (Old)

can't locate cemetery

03-063

Smyrna Church (New)

n32 56.200 , w81 21.083

03-064

Speedwell Methodist

n33 05.050 , w81 32.500

03-065

Striker Family

n32 53.900 , w81 24.050

Stillwood Plantation

n32 53.967 , w81 18.653

03-066

Stumpy Pond Church

n32 59 967 , w81 09.233

03-067

Swallow Savanna

n32 59.583 , w81 19.450

03-068

Trinty Church

n32 52.450 , w81 24.333

03-069

Union Methodist

n32 50.433 , w81 16.983

Historical

03-070

Unknown #01

n34 47.770 , w81 19.292

03-071

Unknown #02

n32 49.490 , w81 19.990

03-075

Unknown #06

n32 56.440 , w81 23.180

03-076

Unknown #07

n32 57.310 , w81 20.250

03-077

Unknown #08

n32 58.020 , w81 14.290

03-078

Unknown #09

n32 57.670 , w81 12.490

could be Southern Googe

03-079

Unknown #10

n32 58.600 , w81 10.567

could be Hughes-Jackson Branch

03-080

Unknown #11

n33 00.110 , w81 10.000

could be Harmony-aka Mixon-Cone

03-081

Unknown #12

n32 59.880 , w81 19.390

03-082

Unknown #13

n33 00.830 , w81 07.370

03-083

Unknown #14

n33 01.330 , w81 18.730

03-084

Unknown #15

n33 01.890 , w81 21.020

could be Middleton

03-085

Unknown #16

n33 02.330 , w81 09.220

could be Bethel

03-086

Unknown #17

n33 02.110 , w81 13.560

03-087

Unknown #18

n33 03.280 , w81 10.670

could be Kinard

03-088

Unknown #19

n33 03.140 , w81 10.130

03-089

Unknown #20

n33 03.990 , w81 28.500

could be White

03-090

Unknown #21

n33 04.810 , w81 28.270

03-091

Unknown #22

n33 07.330 , w81 25.240

03-092

Weathersbee

can't locate cemetery

Relocated

03-093

White

can't locate cemetery

could be Unknown #20