Gary Flynn

( KE8FD )

GPS Mapping

BARNWELL COUNTY SC

Cemetery GPS Mapping Project

Paul Kankula

( NN8NN )

Webmaster
Effective: 07/27/20 15:30
by: PMK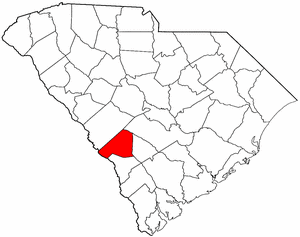 USGS GEOGRAPHIC NAMES INFORMATION SYSTEM (GNIS) - POPULATED PLACES
https://geonames.usgs.gov/domestic/index.html
GOOGLE MAPS
POPULATED PLACES GNIS LINKS: Ashleigh, Ashley Place (historical), Barnwell, Blackville, Boiling Springs, Donora (historical), Dunbarton (historical), Elko, Ellenton (historical), Farrells Mill, Greenland (historical), Guiomaer (historical), Hagoods Mill, Happy Bottom, Hattieville, Healing Springs, Hells Half Acre, Hilda, Kline, Leigh (historical), Long Branch, Owens Crossroad, Patterson Mill, Reynold, Robbins (historical), Rosemary (historical), Snelling, Walker, Whaley, Williston, Yale (historical), Yenome
It's very common for a cemetery to be known by several different names..!
If known, alternate names will be noted somewhere on the county's webpage listing.
Contact Gary Flynn at garyflynn44@yahoo.com, if all you know, is your cemetery's general area.
Cemetery names will normally be listed in alphabetical order. Ex: Brown-Jones-Wilson Families
Surnames will normally come before given names. Ex: Brown Family, John
Plantation names were not ordinarily shown on the Census. Using plantation names to locate ancestors can be difficult because the name of a plantation may have been changed through the years and because the sizeable number of large farms must have resulted in lots of duplication of plantation names.
Plantation nicknames names, if known, will normally be listed as aka (also known as).
It's assumed that if a plantation had over 100 enslaved workers, that there would have normally been a separate cemetery for them. Often landowner's family graves might be located nearby, but always kept separate.
Plantation homes were often burned after slave emancipation, because the landowner could no longer afford to pay their land taxes.
Historical home locations can normally be determined by locating their existing foundations.
Aiken-Barnwell Genealogical Society
Cemetery Survey Book Surname Indexes
Submitted by: Cynthia Hardy
The following Surname Indexes WILL NOT provide you with an Individual's Date-of-Birth/Death. It will only tell you in what Cemetery Survey Book, your Surname can be found in and on what page number.
Book 1 = Barnwell (18), Allendale (3) & Bamberg (2) County Cemeteries, Vol. 1, 1999
Book 2 = Barnwell (42), Allendale (11) & Bamberg (9) County Cemeteries, Vol. 2, 1999
Book 3 = Barnwell (93), Allendale (16) & Bamberg (25) County Cemeteries, Vol. 3, 2007
Family History Library - Books
The Church of Jesus Christ of Latter-Day Saints
Cemeteries in Barnwell County, South Carolina. Typescript, South Caroliniana Library. Microfilmed 1951: FHL Film 22721 Item 3. Contains Blackville Cemetery, Catholic and Methodist Churchyards Blackville, Old Baptist Churchyard Barnwell, Baptist Churchyard Blackville, Catholic Churchyard Barnwell, Episcopal Churchyard Barnwell, Friendship Churchyard near Barnwell, Baptist Churchyard Barnwell

Johnson, Cyril. Barnwell County Cemeteries: Including Allendale and Bamberg. 3 vols. Aiken, S.C.: Aiken-Barnwell Genealogical Society, 1999-2007. FHL Books 975.77 V3b v. 1-3

Langley, Julia Hartzog. Genealogical Collections on Ancestors of Benjamin Bruton Langley and His Wife, Julia Hartzog, Including Some Cemetery Records of Barnwell County, South Carolina. MSS. Microfilmed 1960: FHL Film 232831.
Manning made transcripts of some Barnwell County cemetery records of interest
to her studies:
Manning, Edna Anderson et al. Barnwell County Records, South Carolina: Abstracts of Wills, Marriage and Cemetery Records, 1756-1900. Multi-volume. Typescript. FHL Book 975.776 V2m v. 1 pt. 1.

Manning, Edna Anderson et al. Manning Collection, Barnwell County, South Carolina ecords, 1717-1965. MSS., South Caroliniana Library. 15 vols. Microfilmed 1988: FHL Films 1841506-1841511.
Research Notes:
Barnwell County and its county seat of Barnwell were named for Revolutionary War leader John Barnwell (1748-1800). The county was originally part of Orangeburg District, and in 1785 it was named Winton County. It was given its current name in 1800. Barnwell County has decreased in size over the years as new counties were created within its boundaries (Aiken in 1871, Bamberg in 1897 and Allendale in 1919). The South Carolina Railroad, which connected Charleston to Hamburg on the Savannah River, was built through this area, creating the towns of Blackville and Williston in the mid-nineteenth century. In more recent years the county was the home of several powerful state politicians, known collectively as the "Barnwell Ring." Included were state Senator Edgar A. Brown (1888-1975), Speaker of the House Solomon Blatt (1895-1986), and Governor Joseph E. Harley (1880-1942). (Submitted by: SC State Library / Mary Morgan, 31-Mar-2008)
(1) = Barnwell County Find-a-Grave Project
(2) = Survey Book Code # = County # - Survey Book # - Page #
AME = African Methodist Episcopal (N) SMC = Southern Methodist Church UMC = United Methodist Church ME = Methodist Episcopal
Zion AME = Zion African Methodist Episcopal (N) CME = Christian Methodist Episcopal (N) = Negro (S) = Slave (C) = Caucasian (I) = Indian (A) = Asian
E-Mail: kankula@bellsouth.net TO REPORT BROKEN LINKS
Ref. #

Cemetery Name

GPS Mapping

Aerial View

Road Map

Photos

Text

Find a Grave

(1)

Survey Book #

(2)

Location

06-001

Aaron-Turner

n33 10.584 , w81 29.198

A

06-B03-P001

06-002

Ahl Family

n33 23.567 , w81 23.021

A

06-B01-P004

06-003

Allen's Chapel

n33 07.950 , w81 14.450

06-B01-P001

06-004

Ashleigh Baptist (Old)

n33 18.051 , w81 19.094

06-005

Ashleigh Baptist (New)

n33 18.307 , w81 19.660

06-B01-P007

Ashley Plantation, William

can't locate cemetery

108 Slaves in 1860, Existing Family & Slave cemetery(?)

06-006

Attaway

n33 15.492 , w81 18.149

06-B03-P002

Ayer Plantation, L.M. Sr
can't locate cemetery
142 Slaves in 1860, Existing Family & Slave cemetery(?)

06-007

Barker Family

n33 08.258 , w81 18.366

06-B03-P067

06-008

Barker-Burke

n33 08.583 , w81 17.873

06-B03-P004

06-191

Barnwell Baptist (New?)

n33 14.645 , w81 22.016

06-B01-P008

06-009

Barnwell Baptist (Old)

n33 14.783 , w81 21.941

06-010

Barnwell Memorial Cemetery

n33 16.206 , w81 23.371

06-B03-P136

06-011

Barnwell Memory Gardens

n33 16.817 , w81 21.018

06-B03-P117

06-012

Bates

n33 21.200 , w81 28.650

06-B01-P022

06-013

Bates, James

n33 23.442 , w81 18.699

06-B03-P066

06-014

Bates-Walker

n33 09.723 , w81 30.894

06-B03-P005

06-015

BaMley-Pender

n33 18.762 , w81 23.236

06-B03-P003

06-016

Beasley

n33 18.390 , w81 24.888

06-B03-P065

06-017

Bedingfield

n33 13.508 , w81 24.366

06-B03-P059

06-018

Bell #1

n33 23.277 , w81 29.623

06-B01-P032

06-019

Bell #2

n33 21.432 , w81 25.314

06-B03-P066

06-020

Bell Pond Church

n33 19.600 , w81 26.283

06-021

Best-Hogg

can't locate cemetery

06-022

Blackville Memorial, Town of

n33 10.620 , w81 21.960

06-023

Blackville Cemetery

n33 20.932 , w81 16.992

06-B01-P034

06-024

Blackville Methodist

n33 21.151 , w81 16.167

06-B03-P007

06-025

Boiling Springs Presbyterian

n33 08.067 , w81 25.767

Brown Plantation, James C.
can't locate cemetery
140 Slaves in 1860, Existing Family & Slave cemetery(?)

06-026

Browns Chapel Baptist

n33 16.000 , w81 18.633

06-027

Cain

can't locate cemetery

06-B03-P038

06-028

Calvary Church

n33 23.550 , w81 15.583

06-029

Caron

can't locate cemetery

06-030

Cave

n33 16.041 , w81 23.360

06-B02-P042

06-031

Cave #1

n33 12.829 , w81 26.263

06-B03-P012

06-032

Cave #2

can't locate cemetery

06-B03-P012

West on US278,0.5mi past SC 37

06-033

Cave, Tarleton

n33 26.083 , w81 19.292

06-B03-P012

06-034

Chitty

n33 18.559 , w81 13.849

06-B01-P082

06-035

Church of God

n33 14.650 , w81 22.000

06-036

Cook

n33 16.051 , w81 27.081

06-B03-P011

06-037

County Memory Gardens

n33 16.817 , w81 20.983

06-038

Creech-Sanders Family

n33 08.586 , w81 16.820

06-B01-P077

06-039

Croft-Zorn

can't locate cemetery

06-B03-P012

Galilee Rd. to Garden Rd.

06-040

Cypress Cemetery

can't locate cemetery

06-B01-P083

Relocated to several churches

06-041

Dasiy Dove

n33 08.093 , w81 20.563

06-B03-P017

06-042

Double Pond Baptist

n33 17.867 , w81 15.217

06-B01-P086

06-043

Dunbar

n33 11.033 , w81 32.033

Duncan Plantation, J.G.W.
can't locate cemetery
106 Slaves in 1860, Existing Family & Slave cemetery(?)

06-044

Duncanon

n33 15.254 , w81 26.949

06-B03-P013

06-045

Dyches #2

n33 15.908 , w81 15.373

06-B03-P016

06-046

Dyches #3

n33 16.791 , w81 15.653

06-B03-P016

06-047

Easterling

can't locate cemetery

06-B03-P020

Hwy 278 2 mi. west of Hwy 37

06-048

Ebenezer Church

n33 22.517 , w81 27.783

06-049

Elko

n33 22.384 , w81 22.584

06-B03-P018

06-050

Elko Baptist

n33 22.750 , w81 22.767

06-B01-P097

06-051

Field, Old

n33 20.250 , w81 27.617

06-B02-P064

06-052

First Assembly of God

n33 13.900 , w81 21.267

06-053

Frazier

n33 24.618 , w81 13.134

06-B03-P024

06-054

Friendship Baptist

n33 21.717 , w81 16.283

06-055

Friendship Church

n33 11.633 , w81 15.933

06-B01-P098

06-B03-P021

06-056

Frost Branch Baptist

n33 26.617 , w81 18.900

06-057

Full Gospel Mission

n33 14.939 , w81 17.563

06-B03-P023

06-058

Geter

n33 10.137 , w81 13.665

06-B03-P026

06-059

Great Cypress

n33 18.017 , w81 23.167

06-060

Green Ashley

n33 21.678 , w81 24.089

06-B03-P026

06-061

Green Branch

n33 14.217 , w81 16.800

06-B03-P025

06-062

Hair

n33 20.933 , w81 23.600

06-B02-P010

06-063

Hair

n33 20.077 , w81 21.826

06-B03-P036

06-064

Halford

n33 15.654 , w81 23.402

Hammond Plantation, J.H.
can't locate cemetery
294 Slaves in 1860, Existing Family & Slave cemetery(?)

06-065

Hammonds-Holman

n33 22.153 , w81 15.172

06-B03-P034

06-066

Harley

n33 09.105 , w81 29.877

06-B03-P013

06-067

Hartzog-Blume

n33 17.686 , w81 13.789

06-B03-P010

06-068

Haygood-Short-Staple

n33 12.709 , w81 19.882

06-B03-P034

06-069

Healing Springs Baptist

n33 23.633 , w81 16.383

06-B03-P059

06-070

Healing Springs Baptist (Old)

n33 23.334 , w81 17.825

06-B03-P107

06-B01-P133

06-071

Hilda First Baptist

n33 16.363 , w81 14.595

06-BO3-029

06-072

Hilda Southern Methodist

n33 16.229 , w81 14.609

06-B03-P032

06-073

Hogg-Best

n33 07.786 , w81 18.508

06-B01-P134

Holly Plantation, John
can't locate cemetery
125 Slaves in 1860, Existing Family & Slave cemetery(?)

06-074

Holmes

n33 13.133 , w81 24.633

06-B03-P036

06-075

Holy Apostles Episcopal

n33 14.400 , w81 21.767

06-B02-P014

06-076

Hope Memorial Park

n33 16.950 , w81 20.200

06-077

Hutto-Collins

n33 15.331 , -81 13.831

06-B03-P031

06-078

Jeffers

n33 21.192 , w81 29.258

06-B03-P052

06-079

Johnson-Grimes

n33 21.327 , w81 22.016

06-B03-P039

06-080

Jordan Church

n33 10.833 , w81 26.333

06-081

Jowers Family #1

n33 19.883 , w81 21.450

06-B03-P038

06-082

Jowers Family #2

n33 20.050 , w81 18.133

06-B02-P013

06-083

Joyce Cemetery

can't locate cemetery

Relocated to several churches

06-084

Keel

n33 21.349 , w81 21.743

06-B02-P028

06-085

Killingsworth

can't locate cemetery

Relocated to several churches

06-086

Kline Baptist

n33 08.008 , w81 20.716

06-B03-P040

06-087

Kline Crypt

n33 08.106 , w81 20.421

06-B03-P042

06-088

Lartigue

n33 20.953 , w81 16.260

06-B02-P028

06-089

Lee, John P. Family

n33 23.682 , w81 28.154

06-B02-P028

06-090

Long

n33 11.143 , w81 21.608

06-B03-P043

06-091

Long Branch Baptist

n33 19.200 , w81 23.300

06-B02-P036

06-092

Lower Three Runs Baptist

n33 11.531 , w81 27.983

06-B02-P029

Martin Plantation, Robert
can't locate cemetery
125 Slaves in 1860, Existing Family & Slave cemetery(?)

06-093

Miles-Owen

n33 17.846 , w81 18.228

06-B02-P050

06-094

Mims #1

n33 22.782 , w81 22.296

06-B03-P044

06-095

Mims #2

n33 26.429 , w81 19.938

06-B03-P044

06-096

Mitchell-Blume

n33 22.128 , w81 27.918

06-B03-P046

06-097

Morris Chapel

n33 12.767 , w81 19.317

06-098

Morris-Sanders

n33 11.337 , w81 16.388

06-B03-P046

06-099

Mount Calvary

n33 24.533 , w81 20.433

06-B02-P045

06-100

Mount Lebanon

n33 13.983 , w81 17.600

06-B02-P051

06-101

Mount Olivett Baptist

n33 11.233 , w81 19.517

06-B02-P054

06-102

Nevils Cemetery

can't locate cemetery

06-B02-P063

could be Unknown #4

06-103

New Home Church

n33 11.283 , w81 24.867

Nimmons Plantation, William
can't locate cemetery
121 Slaves in 1860, Existing Family & Slave cemetery(?)

06-104

Odom-Williams

Location ?

06-B03-P010

Between Old Whisky& Red Oak R

06-105

Odom-McClendon

n33 24.153 , w81 15.599

06-B03-P047

06-106

Old Lain

n33 14.766 , w81 16.667

06-B03-P049

06-107

Old River Carroll

can't locate cemetery

06-B02-P057

could be Unknown #23

06-108

Peacock Family #1

n33 18.404 , w81 24.896

06-B03-P049

06-109

Peacock Family #2

n33 19.307 , w81 25.842

06-B03-P050

06-110

Pine Hill

n33 26.150 , w81 17.167

06-B03-P107

Pinkney Plantation, Lucia
can't locate cemetery
99 Slaves in 1860, Existing Family & Slave cemetery(?)

06-111

Powell

n33 20.713 , w81 25.836

06-B03-P051

06-112

Pleasant Hill

can't locate cemetery

06-113

Reach Out Ministries

n33 14.797 , 81 18.276

06-B03-P011

06-114

Red Branch

n33 13.917 , w81 24.200

06-115

Red Hill Baptist

can't locate cemetery

06-B01-P008

aka Barnwell Baptist

06-116

Redmond

n33 16.549 , w81 15.762

06-B03-P054

06-117

Reedy

n33 26.181 , w81 15.893

06-B03-P054

06-118

Reedy Branch

n33 15.433 , w81 17.167

06-B02-P082

06-119

Renew-Youngblood

n33 24.339 , w81 24.334

06-B03-P053

06-120

Richardson

can't locate cemetery

06-B03-P053

behind Barnwell Airport

Richardson Plantation, Mrs. M.A.
can't locate cemetery
175 Slaves in 1860, Existing Family & Slave cemetery(?)

06-121

Riley

n33 16.608 , w81 18.103

06-B03-P052

06-122

Rosemary Cemetery

n33 22.903 , w81 28.517

06-123

Rosemary Church

n33 08.283 , w81 14.733

06-124

Ross

n33 18.698 , w81 19.250

06-B02-P041

06-125

Saint Andrew's Catholic

n33 14.483 , w81 21.717

06-B02-P097

06-126

Saint Johns

n33 08.283 , w81 25.417

06-127

Saint Marys

n33 07.300 , w81 35.583

06-128

Saint Paul Baptist

n33 14.767 , w81 27.717

06-129

Saint Peter Baptist

n33 22.467 , w81 22.467

06-130

Saint Peter Church

n33 22.300 , w81 23.017

Historical

06-131

Saint Thomas Grove Baptist

can't locate cemetery

06-132

Salem (Old)

n33 15.490 , w81 12.751

06-B02-P103

06-133

Sanders #1

n33 09.767 , w81 34.817

06-134

Sanders Family #2

n33 11.450 , w81 23.394

06-135

Sanders Family #3

n33 10.596 , w81 18.702

06-B03-P057

near SC 300 & US 278

06-136

Sanders Family #4

n33 11.768 , w81 22.562

06-B02-P099

near Fuller Pond & US 278

06-137

Scott

n33 18.450 , w81 31.917

06-138

Second Mount Olive

n33 09.750 , w81 21.183

06-139

Seven Pines

n33 15.200 , w81 27.117

06-140

Shelton

n33 20.222 , w81 17.493

06-B03-P055

06-141

Short Staple Cemetery

can't locate cemetery

06-B02-P100

06-142

Shrub Branch

n33 21.733 , w81 20.117

06-143

Silmon Methodist

can't locate cemetery

06-144

Siloam Church

n33 10.133 , w81 23.033

06-145

Simmons-Hair

n33 16.570 , w81 23.202

06-B03-P056

06-146

Singleton

n33 11.783 , w81 32.117

06-147

Smith

n33 25.057 , w81 25.344

06-B03-P057

06-148

Sprawls Family

n33 23.339 , w81 27.963

06-B03-P059

06-149

Springfield Church

n33 17.133 , w81 23.833

06-150

Stansell-Kirksey

n33 23.762 , w81 24.262

06-B02-P100

06-151

Still, Martin

n33 14.234 , w81 17.124

06-B03-P058

06-152

Sunshine Church

n33 24.867 , w81 13.400

06-153

Swan

n33 17.818 , w81 23.118

06-B02-P114

06-154

Sweet Branch

n33 13.233 , w81 13.183

06-155

Sweetwater Grove

n33 14.183 , w81 24.550

06-156

Tarrance

n33 14.709 , w81 28.179

06-B03-P060

06-157

Townsend

n33 13.532 , w81 22.097

06-158

Treadway

can't locate cemetery

06-B02-P135

Relocated to several churches

06-159

Trinity Baptist

n33 15.217 , w81 15.837

06-B03-P060

06-160

Union Church

n33 07.883 , w81 20.400

06-161

Union Church

n33 12.533 , w81 26.867

06-162

Unknown Name #01

n33 08.149 , w81 26.055

06-163

Unknown Name #04

n33 15.768 , w81 13.624

could be Nevils Cemetery

06-164

Unknown Name #10

n33 17.030 , w81 30.020

06-165

Unknown Name #13

n33 18.540 , w81 26.910

06-166

Unknown Name #14

n33 18.930 , w81 30.980

06-167

Unknown Name #15

n33 18.730 , w81 30.130

06-168

Unknown Name #16

n33 19.040 , w81 14.270

06-169

Unknown Name #17

n33 19.961 , w81 29.677

06-170

Unknown Name #18

n33 20.160 , w81 29.950